Game Downloads
You're located in category:
Ski Xtreme
Ski Xtreme is a superb skiing game by Danny "danjo" Boyd of Apocalyptic Coders. Circy's concise review for Klik-me.com says it all about this modern "klik" classic:

"Summer is drawing to a close, and winter seems to be quite a long way off yet. But get yourself immersed in this game and you'll be playing it for ages. If you were a fan of Ski Free (that game that came bundled with many old PCs, along with Chip's Challenge), you've got about ten times as much game than that. Heck, Danjo's effort even comes with a fully blown level editor. And a trick editor too. That's some achievement.

Starting up the game, you're treated to a beautiful introduction. The quality of this alone betters many commercial games, and this is a huge accomplishment achieved by a Clickteam product. A tear may nearly come to your eye.

Next up is the menu. Again, Ski Xtreme's presentation is nearly faultless. The only thing, perhaps, that might be considered nit-picking, is that the main menu text could be a little hard to read. But you have a vast array of options available to you. You can, for example, attempt to out-run an avalanche for as long as possible (a great time-based high score effort, this), or just try and earn as many points as possible in order to unlock some of the tricker slalom courses in the game (there are sixteen in total). Points are gained by performing stunts, skiing between the flags and achieving good times. More points can be given if you don't crash into any amateur skiers along the way. Or anything else for that matter.

The graphics for a game like this are reasonably sparse. The courses look very white, for example, but the actual obstacles and characters are quite nicely detailed (although the skiers hut doesn't actually look like a hut, more like a blob of wood). The skiers animations in particular are very well done, and extremely smooth. The whole graphical style again reminds me of Ski Free. Less attractive are the menus. They're good, nicely animated and such, but they're more "gritty" than the ingame graphics. To me, Danjo clearly has a bit of trouble spriting any objects of a large size. Much like myself, then. Still, it all fits in together well, into an seamless product.

Audio-wise, well, there's just the one mp3. And I've heard it before. A dance track, but it's very suiting to the game, as it's fast paced.

The level design is very good. This is one thing that Danjo is always good at, in my opinion. Obstacles and flags are positioned in such a place that you'll have to have very deft keyboard skills to get through the course unscathed. None of the levels are unfair, either. And because of this great level design, you'll have an absolute blast playing through this. The level editor should keep you occupied for hours, and you'll be perfectly content, when, even if you finish the game, to replay the courses again, looking for the best times and high scores.

Hugely addictive, then, is what I can say about this game. Danjo, in my eyes, has released what is Apocalyptic Coders best game so far. I can't recommend it highly enough."
Download full game now: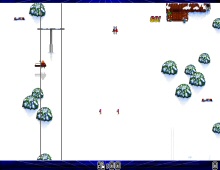 Ski Xtreme screenshot
People who downloaded this game have also downloaded:
Super Ski Pro, Snowboard Racer, Ski King, Shane Warne Cricket, Skunny Kart