Game Downloads
You're located in category:
Rodeo Games
Rodeo Games is an original collection of mini arcade games based on Western mythos. The mini-games are fun, but unrelated to each other, and the only purpose in the game is to break your own high scores from previous session. Despite this limitation, however, the mini-games offer enough gameplay variety and challenges for any arcade gamer looking for something different. There are 6 mini-games in all: Trick Shooting, as the name suggests, is a 3D shoot-the-target games with a nice nod to realism (e.g. the crossfire "jumps" after each shot to simulate the firing impact); Knife Throwing is a typical shoot-the-spinning-target game; Calf Roping, Steed Wrestling, and Bronco Riding are fun cowboy sports popular in Midwestern USA-- here's your chance to rope a runaway calf, wrestle a steed, and ride tough horses without falling off; Finally, Stagecoach Rescue depicts a popular scene from most Western flicks: catch up with a hijacked stagecoach on horseback, and fight Indian warriors to rescue the people inside.

Overall, the games are fun, but uneven, and plague with a control scheme that isn't very intuitive: Trick Shooting and Calf Roping are cakewalk compared to Knife Throwing (where it's game over after one miss), and maintaining your posture on horseback in Bronco Riding is nearly impossible for all but the most dexterous of gamers. Rodeo Games is fun, but for anyone who's not an expert arcade gamer it may prove to be an exercise in frustration.
Download full game now: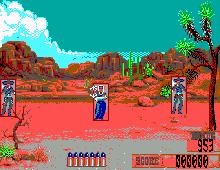 Rodeo Games screenshot
People who downloaded this game have also downloaded:
Gone Fishin', Goldrush, Harvest Moon, Settlers II Gold Edition, The, Ocean Trader