Game Downloads
You're located in category:
Pete Rose Pennant Fever
Perhaps the most obscure Dynamix game ever, Pete Rose Pennant Fever is a ground-breaking baseball simulation that sets the stage for the likes of EA's Earl Weaver Baseball series.

Endorsed by the Cincinnati Reds' famous baseball player and manager Pete Rose, the innovations in Pete Rose Pennant Fever are numerous. Among other things, the game was the first baseball game to feature excellent digitized sounds from PC speaker (using a technique similar to Access' "RealSound" technology). The graphics are also outstanding for its time, with very fluid player movements that push hardware limitations of that time (and remember, this was 1988). The game's most important innovation is the career modeó baseball historians will recall that Pete Rose is the very FIRST baseball game to offer full-fledged career mode, and in so doing, deserve mention as one of the first baseball simulations for the PC. The graphics may look dated today, and the gameplay may lose some of its luster compared to the superior Earl Weaver Baseball 2, but make no mistake: Pete Rose Pennant Fever is one of the true pioneers in the genre that deserve to be forever played, and not forgotten.
Download full game now: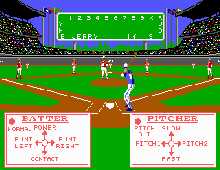 Pete Rose Pennant Fever screenshot
People who downloaded this game have also downloaded:
Earl Weaver Baseball 2, Earl Weaver Baseball, Micro League Baseball 4, Oldtime Baseball, Pro League Baseball