Game Downloads
You're located in category:
Manx TT
Manx TT is a decent PC port of SEGA's popular arcade game which was in turn based on the real-life "Isle of Man Trophy Race" motorcycle race. Similar to other racing games, you can play the game in arcade mode, PC mode, time trial, and multiplayer with up to eight people via modem, network, or the Internet.

Graphics, as one would expect from a SEGA game, is excellent. The bikes, tracks, and scenery are very detailed, and look very nice in SVGA resolution. The playability is also excellent - even though the game certainly cannot rival the smooth arcade controls, this PC version of Manx TT allows you to reconfigure keys, including gamepad. The gameplay is also quite fun: in the PC mode, you can either practice a course, or select the "Manx TT Challenge" which requires you to race in all 4 courses. If you succeed you will be awarded with a selection of superbikes and access to the superbike challenge, which is even harder. Unfortunately, Manx TT offers only two tracks: the Manx TT, and the Laxey Coast course. These courses are then mirrored with different backdrops to create the final two courses. Four courses simply are not enough for a solid racing game to keep fans entertained, which means Manx TT is at best a fun time-filler that has very little replayability once you have seen all the courses. More courses, or at least the ability to play custom-made maps for multiplayer sessions, would have made the game much better.
Download full game now: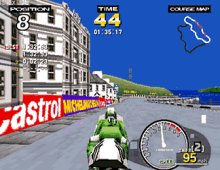 Manx TT screenshot
People who downloaded this game have also downloaded:
Moto Racer, Motorhead, GT Racing '97, Longbow 2, TOCA Touring Car Championship