Game Downloads
You're located in category:
M.U.D.S.
Review 1:

Mean Ugly Dirty Sports - that's the full name of this game. And it fits! Where else are your players allowed to beat up their opponents, get deepfreezed as a penalty, get eaten by sharks, swampmonsters and other weird creatures? The "ball" itself is called "Flonk" and is a little animal that tends to run away if no player holds it. That sounds chaotic? Yeah, well, it is - but at the same time great fun and REALLY playable!

There are many different races to choose your players from, each with it's own advantages. In the course of the campaign you get to play against better teams with stronger players and are able to buy players of those races. But you have to have an eye on your finances, especially a top-team that is able to win against all other teams is VERY hard to pay. You have to think about many different things - it is possible to bribe both the referee as well as the Flonk itself - you can also meet the players of your opponents in a tavern in a night before the match - drink with them - listen to them talking about their team, try to bribe them. Many options!

Review 2:

Undoubtedly one of the most fun and original sports games ever devised, M.U.D.S. combines rugby's basic rules, RPGs' character development, and tons of strategic options and original concepts into a wholly engrossing fantasy sports game that will keep you up nights, with a near-perfect balance between strategic team management and arcade action. The core sports game is also put in the rich context of different town locales, where you can pick fights and even bribe the opposing team before the match to give your team some advantage. When the match starts, the action is furious, the movement is fluid, and the controls are intuitive. In short, original sports games don't get any better than this-- a definite must have for any sports fan!
Download full game now: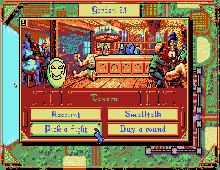 M.U.D.S. screenshot
People who downloaded this game have also downloaded:
Speedball 2, California Games 2, Games, The: Summer Challenge, California Games