Game Downloads
You're located in category:
BC Racers (a.k.a. Stone Racers)
Review 1:

A fun prehistoric racing game that was also released on many console systems, e.g. 3DO and Megadrive. The storyline is as simple as the gameplay: millionaire caveman Millstone Rockafella has arranged a formula BC contest with a Ultimate Boulderdash Bike as the prize. A host of bizarre characters have entered in pairs -- one driving, one deploying weapons from the side-car -- in a wacky race across eight circuits ranging from a 'jungle rumble' to the hellish 'volcano dash'.

There are four skill settings and they make a significant difference in game, with 'easy level' loop tracks suddenly spawning all sorts of dog-leg corners and chicanes on harder difficulty settings. Other than that, it's all very straightforward with no power-ups or unusual hazards -- apart from bridges and leaps. Besides one-player mode, you have a choice of competing against a second player alone or with all the racers included. Getting down to gameplay, the first minutes you need to get used to the steering which reacts much stronger than in the shareware kart games. This really is not a problem here, since the controls are much more manageable than the overly- sensitive steering of Virgin's SuperKarts. In BC Racers, you get used to it quite fast. The first stage is easy and just a warm-up. The second one features a race at night as extra difficulty. There's a light spot in front of you, in the area of your front lamp, but the view is much worse than in the first stage. Upcoming stages feature bridges and ramps - too bad if you miss them - and even snow. After eight stages, the settings repeat but with new courses. This way, you get 32 levels in all. The higher ones have quite interesting course lay-outs (in contrast to the rather simple first eight levels) with narrow passages and even narrower short-cuts. As they get very difficult later on, it should be enough to keep you occupied for a while. Even more in split-screen two-player-mode, of course, which harks back to the days of Epyx's Pitstop, with very good graphics detail that isn't very pixellated. Overall, if you enjoy Wild Wheels or other kart racing games, you'll enjoy BC Racers. Not a top dog, but recommended -- and best of all, the game was released as freeware in 1995 :)

Review 2:

Small race game in the prehistoric. Looks like Mario Kart, but it's not. Really. The graphics are okay. But you can't do much else then drive..
Download full game now: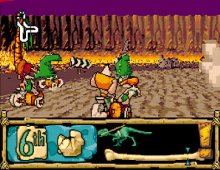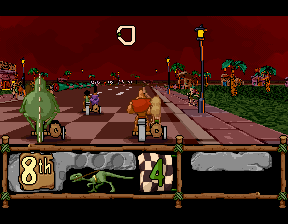 BC Racers (a.k.a. Stone Racers) screenshots
People who downloaded this game have also downloaded:
Fuzzy's World of Miniature Space Golf, CyberRace, California Games 2