Game Downloads
You're located in category:
Alex Higgins World Snooker
Alex Higgins' World Snooker is an excellent PC port of one of the best early snooker games on the Spectrum and Commodore 64 computers. The game was revolutionary for its time-- offering mouse support, practice options, reasonable ball physics, and excellent control interface-- all in 1988. One glaring omission, however, is the complete lack of computer player: you have to either play both players yourself, or find a human friend to play against. This disappointment aside, Alex Higgins offers a smooth snooker game that will please all fans of the sport. Hitting the ball is done via an elegant four-step procedure: select the location to place the cue ball, shot direction, force, and finally spin direction and strength. The top-down view makes judging spin difficult, but a few rounds of practice are enough to allow you to line up perfect shots.

Overall, Alex Higgins is a great snooker game that would have been near-perfect with an addition of computer players. As it stands, though, it is an excellent PC port of a Spectrum classic that is well worth a look.
Download full game now: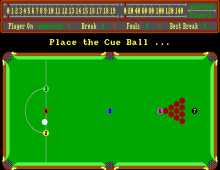 Alex Higgins World Snooker screenshot
People who downloaded this game have also downloaded:
Jimmy White's Whirlwind Snooker, F1 World Championship Edition, PGA Tour Golf, 3D Pool