Game Downloads
You're located in category:
Yes Prime Minister
Yes Prime Minister is a very rare PC version of a "cult" Commodore 64 game based on the hit BBC comedy series of the same name that aired in the 1980s and was widely hailed as one of the best shows ever made about British politics and humor. Yes Prime Minister the game lets you be the Prime Minister in the show, Jim Hacker. Your goal: survive one week in politics (surely one week in politics is a lifetime in many other professions...) As in the show, you will be constantly harassed by Bernard Woolley, the Home Secretary, the press, the Irish Prime Minister, and Sir Humphrey Appelby.

Gameplay is similar to other political games, e.g. The Fourth Protocol or Floor 13, except it is a lot more tongue-in-cheek and much more limited. Most of your time is spent in the office, where you cn answer the telephones, read incoming telexes, answer the intercom, check the diary in the desk drawer, and read memos that appear on the desk. You can also click on the safe to see the latest opinion poll, i.e. your score in the game. You can only go outside the office when you have a meeting to attend, at which time the game will prompt you to choose your destination. You can advance the time by using the clock, but usually there are enough events that demand your attention simultaneously that this is not usually necessary. Your actions are limited to choosing from multiple choice options during meetings and telephone conversations.

Overall, Yes Prime Minister is a fun, "light" strategy game that focuses more on funny dialogues and political parodies than on taxing your brain. Fans of the show will really enjoy the game, and the British humor may make non-fans curious enough to find out more about this classic comedy. Recommended, but as a neat adjunct to the show rather than a good game.
Download full game now: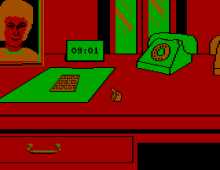 Yes Prime Minister screenshot
People who downloaded this game have also downloaded:
What They Don't Teach You At Harvard Business School, Crime and Punishment, Yoot Tower, Business Simulator, Executive Suite