Game Downloads
You're located in category:
Tracon for Windows
Tracon for Windows is the first Windows version of Wesson's classic air traffic controller (ATC) simulation. As an ATC, you are in charge of the air traffic in a certain sector, and your job is to set routes for planes so that every airplane gets to its destination safely and on time.

As an ATC, you will view most of the action from radar, which, similar to the real ATC's screen, features the aircrafts as green dots or little airplanes, moving at a certain speed at a certain height. The more traffic is in the air, the more hectic your job becomes. Emergencies and other random elements add to the challenge.

Even to this day, Tracon is widely hailed as the best air traffic controller simulation ever made, and this Windows 3.1 version provides more than enough evidence. The game covers most major airports in the world (U.S., Europe, Australia, etc.), and even some minor airports. Voice implementation was also well done, unfortunately the game could not be slowed down for effective vocalizations on anything faster than a 386DX/33 computer. Definitely a must-have for all ATC fans.

Note: an interesting anecdote from MobyGames regarding the game's development: "Tracon was used to train professional ATCs in the early nineties. Then Wesson decided to develop special simulation units for professional users and continue the Tracon series as entertainment."
Download full game now: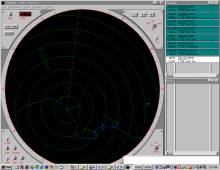 Tracon for Windows screenshot
People who downloaded this game have also downloaded:
Tracon II, Tower, Tracon, Microsoft Space Simulator, F_A-18 Hornet 3.0