Game Downloads
You're located in category:
Metersteiner Beer Manager
Metersteiner Beer Manager is a very well designed but little-known shareware business game from Germany that tackles an attractive business that is rarely depicted in a PC game. Mark Silva of RealBeer.com says it all about this fun game in his review:

"Metersteiner Beer Manager, a new brewery oriented, SimCity-type PC game from Germany, the birthplace of lager beer, challenges you to build a brewing empire with your wits, several virtual decades and enough starting capital to give Paulaner or Spaten a run for their money.

Start with a $4,000,000, a line of credit and build a brewing empire in forty years. The challenge is to grow the mythical Metersteiner brewery set in 1950 Germany. As a brewery tycoon you must build brewing facilities with top quality beer, provide transportation to your retailers while managing cash flow and fending off the three computer-generated competitors. You can choose several sites to build your brewery throughout the German countryside. The game keeps track of your sales, cash reserves, line of credit and, most importantly, time. Exceed your line of credit for a period of three months and bankruptcy will force you out of the game.

Gamers that have come to expect Hollywood-style graphics may have to wait for another version of Metersteiner Beer Manager. Clearly, the developers focused on developing the artificial intelligence component of the game above the use of video and 3D rendered graphics. The navigation is clean and engaging. The game opens with a screen showing a map of the German countryside with icons depicting towns, and potential brewing sites. Select a brewing site, begin to add breweries, warehouses, administration buildings, loading docks, and laboratories. Each addition will have a direct effect on your cash flow and the overall operation of your brewing empire. The main game playing screen provides you with all of the information you need. I highly recommend that first time users take a the time to read the on-line manual, even though I'm not much of a manual reader myself. This one only takes 5 minutes but definitely enhances game play.

The overall objective of the game is to build the Metersteiner brewery to the highest possible level in the time allowed. Beating the computer generated competitors is the first step. Players can select any town in the countryside in which to do business. Advertising is required in every town where brewers expect to sell product. Depending on the city, brewers can use television, radio, poster or movie theater advertising. Each form of advertising has associated start-up and monthly maintenance costs. With advertising you can now take over retail distribution sites. The more retailers, the greater the flow of Metersteiner beer/sales revenues. Buy some trucks and begin to supply your cities as demand requires. But, you have to watch your cash flow, and your competition.

The game is at its best when competitors come to town. This is where many factors affect your strategy. The loyalty of your customers is based upon the quality of the Metersteiner beer which you manage through quality control laboratories that you build. The more loyal your customers are, the more expensive it is for the competition to take over your retail locations. There may be towns you really don't want but that are vital to your competition. Take over these towns and raise your competitors cost of doing business. It's a dog eat dog world out there.

This is a wonderful game that constantly challenges the user. With its single-minded objective of building net worth, Metersteiner Beer Manager is easy to play; with its deceptively complex strategies, the game is immediately addictive."
Download full game now: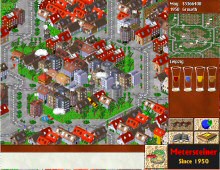 Metersteiner Beer Manager screenshot
People who downloaded this game have also downloaded:
Free Enterpri$e (a.k.a. Free Enterprise), Business Simulator, SimFarm for Windows, Executive Suite, SimTower