Game Downloads
You're located in category:
Free Enterpri$e (a.k.a. Free Enterprise)
Review 1:

Free Enterpri$e is a unique business simulation that is largely unknown despite good reviews (Strategy Plus magazine calls it "a SimBoss kinda game"). It is essentially a "tactical-level" business operations game where you control every aspect of your company, from layout of factories to marketing the product. The game's strength, however, lies in the management of your personnel: for instance, design adequate "smoking zones" to prevent workers going "postal" from high stress. As a Windows 95 game it also benefits from on-line help to explain the confusing interface.

Review 2:

Not just a business simulation, this is one of the better business simulations I know! You start a company, rent a building to put your company in and you buy some machines. With these machines you produce products of your choice. Hire employees to take some of the work off your hands. Build offices to work in and hire managers and marketing people, sales persons and more people to put in those offices and do their work. Hire good, but expensive people. Hire cheap, but very low-skilled people, you choose. Build expensive offices in which people can perform very well. Build cheap offices in which people will work very slow, it's up to you. Buy cheap raw materials or very expensive ones. Change the sale prices. Make as much profit as you can.

A very well done game, with good graphics, fine gameplay, basic sounds and an average addictivity level, this makes a fine business simulation. An extra plus point is the reality level. There are so many options that you would almost think you are a real enterprise owner.
Download full game now: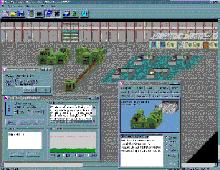 Free Enterpri$e (a.k.a. Free Enterprise) screenshot
People who downloaded this game have also downloaded:
Business Simulator, Baron: The Real Estate Simulation, SimFarm for Windows, Executive Suite, Metersteiner Beer Manager