Game Downloads
You're located in category:
Ironman Offroad Racing
Review 1:

Ironman Super Offroad is a fun old dirt track racer that is best played against a few friends (up to 4) on the same computer. Endorsed by Ivan "Ironman" Stewart, a famous dirt track racer, the game lets you drive huge buggies against other opponents on several course of rugged terrain.

The game is played from a neat third-person, isometric/bird's eye view perspective that lets you see the whole track at once. The controls are easy to learn, and the cars behave realistically. However, realism is not the game's focus: similar to many console racing games, the emphasis here is on playability and fun. Among other things, you can collect cash that mysteriously appear on the tracks every now and then. The money - cash you collect and prize money you get from winning races - is used to buy better parts for your car (better tyres, engine, etc.). You can also buy bonus items such as Nitro - the most useful item in many a racing game. Nitro significantly boosts your acceleration and therefore helps trip the odds in your favor.

If you are looking for a realistic car racing game, this is not one of them. However, if you are looking for a fun and challenging racer to play with a few friends, Ironman Super Offroad will prove to be both playable and replayable.

Review 2:

Ironman Offroad (a.k.a. Offroad) is so cool. You are these little offroad 4x4 things that race around the track. You bounce, crash, crash some more, hit walls, crash and then crash. It's all good fun. You can have 1 v 1+ sharing the kb (see Slicks for multiplayer keyboard sharing strategies e.g. biting, pushing, yelling, stealing the keyboard and running away).

This game has a lot of options when it comes to playing. You can play against the computer with up to 4 players total, you can play against others on the same keyboard as mentioned above. You can do one race, or a championship.

Oh, did I mention the nitro? NITRO!! You hit the nitro button; out comes some smoke and brooooom, you get a nitro boost. Of course nitro is not free, so as you travel around the tracks, you can get money, and special stuff.

It's got great graphics and sound for its time. Little cute cars etc. It's a lot like Micro Machines with its little trucks.
Download full game now: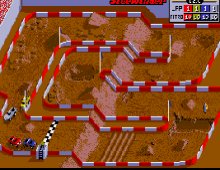 Ironman Offroad Racing screenshots
People who downloaded this game have also downloaded:
Stunts, Sim City 2000, Street Rod 2, SimTower