Game Downloads
You're located in category:
Heroes of The 357th
Heroes of The 357th casts you as one of the pilots of this famous American Fighter unit in Europe during WWII. Based in England, you fly a variety of mission against occupied Europe. You fly exclusively P-51 Mustang.

This game has good graphics, although the almost feature- less green terrain is fairly bland. The cockpit is quite well modeled. The objects, including famous landmarks an the aircraft, is also quite interesting. The flight model of this game is surprisingly tough, and just flying straight and level is a challenge. I found moving the control surfaces even a bit carries a very high risk of departing controlled flight. I think this is simply unrealistic. It's like trying to fly the F-117 with its Flight Control System computer disabled.

I usually enjoy tough flight model. But the flight model of Heroes puts me off. I really cannot recommend this game. If you want to play WWII flight sim of yesteryear, I'd suggest you hunt for a copy of Dynamix's Ace over Europe instead.
Download full game now: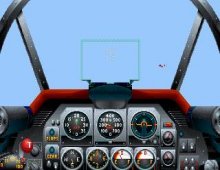 Heroes of The 357th screenshot
People who downloaded this game have also downloaded:
Aces of The Pacific, Dawn Patrol, Red Baron, Gunship 2000