Game Downloads
You're located in category:
Rescue at Rigel
One of Epyx' earliest RPGs ever made for PC, Rescue at Rigel is a simplistic science fiction RPG where you are given only 60 minutes to find and transport the 10 human captives from an alien moonbase to the rescue ship. Your adversaries include the hostile Tollahs, two types of armed robots, a six-legged cerbanth, and a huge amoebic slug.

Gameplay is very similar to Temple of Apshai, another early dungeon crawl from Epyx. You basically explore the moonbase, kill any alien you come across, and collect better weapons along the way. Very simple, but it does show off Epyx' pioneering streak in making graphically appealing RPGs that were ahead of the pack at the time. The time limit also adds to the challenge, although the game isn't as difficult as you would think. Doesn't stand the test of time as well as Temple of Apshai or Rogue, but anyone looking for a truly early, simple RPG should take a look.
Download full game now: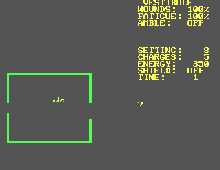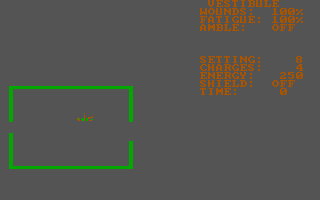 Rescue at Rigel screenshots
People who downloaded this game have also downloaded:
Questron 2, Rings of Zilfin, Romancing Sa-Ga 3, Times of Lore, Monstania