Game Downloads
You're located in category:
Planet's Edge
One of the longest and most overlooked RPG ever, Planet's Edge is a solid offering from the makers of Might & Magic series. Despite the lack of pedigree and fame that the M&M series enjoys, Planet's Edge is an excellent RPG in its own right that features sprawling world to explore (hundreds of planets and maps), epic plot (as intrepid crew of earth's last spacecraft, find out why earth has mysteriously disappeared from the solar system, and find its new whereabouts), and cool weapons. Although it lacks the detailed statistics of other RPGs, it is definitely one of the best futuristic RPGs that you wouldnt' want to miss.

Note: There is a nasty bug that will prevent you from finishing the game without knowing the secret workaround ;) Basically, the bug prevents you from orbiting the first planet in each system. To get around this, just use the keyboard command "O" instead of the mouse. This will make your ship orbit whatever planet is selected in the nav console-- even the first one.
Download full game now: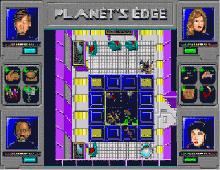 Planet's Edge screenshot
People who downloaded this game have also downloaded:
Star Command, Centauri Alliance, Betrayal At Krondor, Knights of Legend, System Shock 2