Game Downloads
You're located in category:
Crystals Of Arborea
Review 1:

A rather promising roleplay game by the great company Silmarils. You start the game by creating different characters that can be either a magician, ranger or warrior. Your main character is already created as this is the main character in the game. The character system is quite simple and nothing compared to the true roleplay games.

The game engine is the same engine seen in the more popular Ishar series but of course without the improvements made to the Ishar series. The game does offer some nice features like the possibility to split up your party so you can explore a larger area in the same time. Of course this only makes the game even tougher than it already is as there are tons of monsters in the game and sometimes you will feel like there is no end in the game.

Overall an average roleplay game but if you are a fan of the Ishar series or other games in this genre this is worth a try as it does offer some good gameplay for the true roleplay gamer. For other people it is recommended that you look for other roleplay games as there are many other ones that are of higher quality.

Review 2:

The precursor to highly successful Isharseries, Crystals of Arborea's story is Waterworld meets AD&D: as prince of Arborea, last refuge in the submerged world, embark on a quest to find 4 crystals and defeat the evil Morgoth to return peace to your kingdom. Primitive RPG engine underscores good graphics and intuitive interface. As with all Silmarils games, winning this one is next to impossible-- any crystal you fail to recover will be lost forever, prompting you to reload (on top of the frustrating combats). For those with unlimited patience only!

The game had lovely landscape and character graphics as well as intro, "event" and finale graphic sequences (for the time). The action is seen from 2 different view modes - 2D for travelling over the landscape as a team, or 3D with Jarel's point of view for exploring underground tunnels etc. Some extra inventiveness (sadly not use in the Ishare series that followed) was the ability to send each of your team mates off separately to explore other areas, deal with enemy groups, etc. This helped cover more ground, but it did leave characters vulnerable if they were alone, weak, or in limited numbers when accosted by enemies.

Crystals of Arborea is an excellent introduction to the RPG genre, even with the ridiculous number of enemies that seem to pop up everywhere. The game is also non-linear in a sense that you can finish most quests in any order. Recommended for RPG newbies.

Review 3:

Morgoth has taken over the world, and it is your task to defeat him. In this unique first-person view RPG, you and your six companions will have to find four crystals and place them on four towers to be able to fight Morgoth. The game is the prequel of the Ishar games, with most of the characters from your party showing up in later parts.
Download full game now: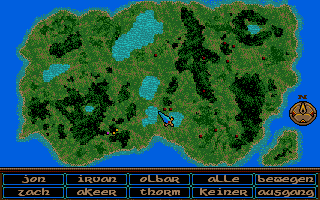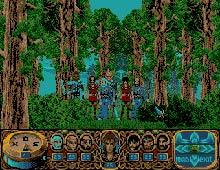 Crystals Of Arborea screenshots
People who downloaded this game have also downloaded:
Druid: Daemons of the Mind, Companions of Xanth, Dungeon Master, Aleshar: World of Ice, Future War