Game Downloads
You're located in category:
Troika
Troika is an eclectic collection of games from Russia that range from an average title, to an interesting twist on the old idea. The first game, Rebel Planets, is an okay shooter that won't lure any gamer away from Raiden, although .Metal Hearts is a fun puzzle game that is similar to Lucasfilm Games' earlier Pipe Dreams, with new twists: instead of just collecting the links together, you must connect them in such a way as to be able to shoot projectiles through them to destroy metel hearts on each level. Some reflexes and good timing are also needed, since you must "launch" each link as it moves along the top or the side of the screen. The last game in the collection is Ivan's Time Machine, an average puzzle game that is similar to Chip's Challenge but a lot simpler. The objective is to collect all the coins and other special items on each level. There are of course obstacles in your way, such as boxes to push, one-way tiles that won't allow you to use them twice, and more. It's all pretty standard, though, and before long you are likely to get bored.

Overall, Troika is a pretty mundane collection of games that are obviously not the best Russian creation. Anyone expecting a Pajitnov (of Tetris fame) quality will be very disappointed. Only Metal Hearts is interesting enough to keep me playing for a while, but the novelty soon wears out for the lack of new surprises to keep the levels fresh. The other two games get tedious even faster.
Download full game now: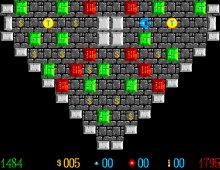 Troika screenshot
People who downloaded this game have also downloaded:
Tubes, Lode Runner: The Legend Returns, Stone Age, Symantec Game Pack, IQ Marathon