Game Downloads
You're located in category:
Troddlers
Successful games with new game principles usually spawn a long list of clones. DMA Design's Lemmings was one of these games. Troddlers by Swedish developer ATOD is one of the few Lemmings-inspired games that almost (and I would say *did*) surpass the original classic in terms of ingenuity of levels and addictiveness.

With cute graphics, lovely music and unique enough to be a good game of its own, Troddlers is a puzzle game for one or two players featuring two wizard apprentices Hokus and Pokus. There are three modes of play - 1-player, 2-player "team" and 2-player "war". A truly magnificent game, it totals an amazing 175 puzzling levels! If you are a Lemmings fan, Troddlers is simply a must-have.
Download full game now: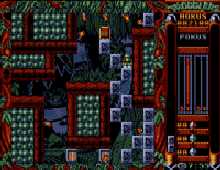 Troddlers screenshot
People who downloaded this game have also downloaded:
Lemmings for Windows 95, Lemmings 2: The Tribes, Gruntz, 3D Lemmings, Lemmings Holiday