Game Downloads
You're located in category:
Spryjinx
Spryjinx is a small freeware gem that combines elements from two Atari 2600 classics, Quick step and Q-Bert, into a charming and fun reflex-oriented puzzler. The object of the game is to either score more points then your opponent, or kill him. You score points for platforms that are your color when they are destroyed when reaching the bottom of the screen. You turn a platform your color by being the last one to jump off of it. When a player hops onto a platform, it will change to his/her color. If both players are on the same platform, it will be neutral-colored until one hops off of it. The other way to win is to kill your opponent by getting him/her stuck on the bottom row when it is destroyed. This is much easier said than done, since it means you must "lead" him to the spot you want, at just the right timing that doesn't get YOU stuck.

There are many power-ups and bonus items that appear randomly on screen. These include paint buckets, lightning bolts, glue bottles, bombs, and magnets. You can choose from different boards, difficulty level, and the number of players. You can also play against a friend in hot-seat mode, although the controls are too awkward for two people. There is also a level editor for designing your own boards if you find the default one too easy. Overall, Spryjinx is a fun, unique, and challenging freeware gem that requires both quick reflexes and quick thinking. Highly recommended for Q-Bert fans everywhere.
Download full game now: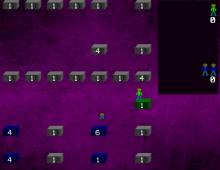 Spryjinx screenshot
People who downloaded this game have also downloaded:
Simple Sudoku, Getaway Entertainment 6 Pack for Windows, Xixit, Zig Zag, Spryjinx