Game Downloads
You're located in category:
Sexy Droids
Review 1:

A conversion of Magic Bytes' Amiga game by the same name. Don't think that this is an adult game, it is a PUZZLE! You and your friend (or a computer) have to pick numbers on a board and try to collect as much as possible. Whoever gets more is the winner and as a reward you will get to see the pic of a half-naked female android. Nope, no real women in this game.

This is one great puzzle game if you ask me. Make sure you play it.

Review 2:

Decent conversion of Magic Bytes' Amiga game of the same name, Sexy Droids is a very simple jigsaw variant that's downright boring. Two players, one of which could be the computer, take turns opening tiles on a grid to uncover a picture underneath. Each tile has a number on it, representing the number of points you can win. The objective is to accumulate more points than your opponent before the picture is fully uncovered or unscrambled at harder difficulty level. Perhaps the game's biggest appeal is the number of scantily-clad androids that are the subject of pictures underneath the tiles. But then again, you'll wonder why Magic Bytes didn't just use human models to get *cough* the appropriate effect on male audience. Perhaps they were trying to distance themselves from the likes of Strip Poker? Whatever the reason, Sexy Droids is a thoroughly uninteresting, average puzzle games that everyone can afford to miss.
Download full game now: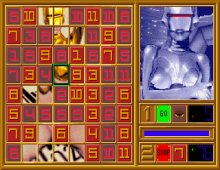 Sexy Droids screenshot
People who downloaded this game have also downloaded:
Incredible Machine, The, Incredible Machine 3.0, The