Game Downloads
You're located in category:
Pushover
Review 1:

Pushover and One Step Beyond are two quirky little gems from British publisher Ocean, who take the concept of traditional parlor games and turn them into addictive puzzle games that are reminiscent of Lemmings in style, but with truly original concepts. Pushover is essentially "dominoes" with lots of variations (e.g. "special" dominoes that explode, split in the middle with hit, etc.) to the theme. In the sequel, One Step Beyond, the concept is twisted around: now you must jump on different kinds of *platforms* to reach the exit. The result are two very addicting games with enough levels to keep the most die-hard puzzlemeisters occupied for hours.

Review 2:

Very original puzzle game. Place domino bricks tactically in order to topple over the last one. Some levels require you to run around while the bricks are falling to get it right. Nice music and graphics!
Download full game now: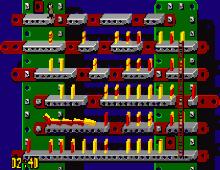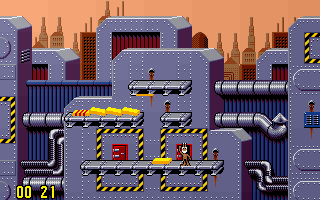 Pushover screenshots
People who downloaded this game have also downloaded:
Lemmings 2: The Tribes, Humans 2, The, Humans, The, Lemmings Chronicles, The (a.k.a. All New World of Lemmings), Lemmings