Game Downloads
You're located in category:
Never Mind
Never Mind is a unique and challenging puzzle game that requires both speed and skill to solve. The game is best described as jigsaw puzzle in 3D -- your objective on each level is to restore one picture or more on different surfaces of the room by placing and exchanging picture tiles. You always start each level with a tile, which you must exchange with some other tile in the room to restore the picture. Warp tubes allow you to walk on walls, and you must complete the task in alloted time limit. In later levels, the game gets a lot more challenging: you not only have to exchange a lot of tiles to restore pictures, but there are also obstacles such as chess pieces that go around the room undoing your handiwork, and tiles that dissolve if you stand on them for too long.

With dozens of challenging levels, vibrant graphics (many pictures are animated), and a unique concept, Never Mind is highly recommended for all puzzle veterans, and particularly lovers of jigsaw puzzles.
Download full game now: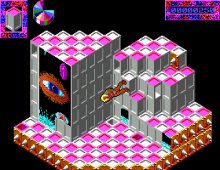 Never Mind screenshot
People who downloaded this game have also downloaded:
Simple Sudoku, Merlin's Apprentice, Fool's Errand, The, Lexi-Cross, Modern Problems