Game Downloads
You're located in category:
Lode Runner Online: The Mad Monks' Revenge
Lode Runner On-Line: The Mad Monks' Revenge is the new and improved version of Lode Runner: The Legend Returns. Developed and released in 1995 by Presage (now Human Code), makers of The Legend Returns and published by Sierra, it is basically the same game as its predecessor, but with some new features and additional levels. The most notable new feature is the ability to play a 2-player game over a network connection, which is incredibly addictive, especially if you have a willing friend (read: victim) on the other end of the phone line. Other new features are regenerating bombs, disappearing turf, and "personalized" items that can only be used by one of the two players.

It is unfortunate that Sierra decided to name the game Lode Runner On-Line, as this has probably led many people to believe that this is an on-line-only game (similar to Ultima On-Line for example). This is not true; in fact it has every feature that Legend Returns has, and many more. In addition to multiplayer modes, there are more devious levels and more varied background graphics and tile sets that make the level editor much more robust and fun to design new levels with. Overall, if you enjoy Legend Returns, you'll love Lode Runner On-Line at least twice as much. And best of all, Todd Daggert, the lead programmer of this gem, put it up for free download on his Lode Runner Online page in 2002.
Download full game now: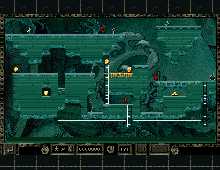 Lode Runner Online: The Mad Monks' Revenge screenshot
People who downloaded this game have also downloaded:
Lode Runner: The Legend Returns, Lemmings 2: The Tribes, Lode Runner, Lemmings Chronicles, The (a.k.a. All New World of Lemmings), 3D Lemmings