Game Downloads
You're located in category:
HitBlock (a.k.a. Crillion)
HitBlock is a fun puzzle game that started life as a remake of C64 game Crillion but ended up offering much more than its predecessor. The premise is simple: use the arrow keys to bounce a ball around the screen, destroying all the blocks in order to go on to the next level. The catch: you can only destroy blocks that have the same color as your ball. Since you can only change the ball's color by hitting the special "change color" block, HitBlock is more of a puzzle game than an Arkanoid clone. For example, if you hit the special block that changes your ball's color to green before you clear out all the yellow blocks, you won't be able to clear all the yellow blocks if, say, that special block that changes ball color to yellow is sandwiched between blue blocks. Beating all 100 levels of HitBlock thus requires a combination of careful planning and reflexes (although you don't need superhuman reflexes, since in most levels it is easy to predict and control the ball's bouncy paths). If you manage to complete all 100 levels, you can use the built-in level editor to create your own levels.

In addition to upgrading Crillion's graphics to crisp SVGA and including all the original levels from the C64 version, the designer adds many new game elements especially for "Hard" levels. These include crumbling blocks, switches, moving enemies, colored deathbringers, and more obstacles and special blocks. If you enjoy ball-bouncing games that require more brains than brawns, HitBlock fits the bill. Highly recommended!
Download full game now: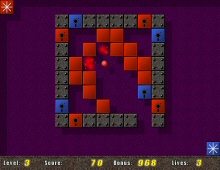 HitBlock (a.k.a. Crillion) screenshot
People who downloaded this game have also downloaded:
LMarbles, Marble Drop, Incredible Machine 3.0, The, Humans 2, The, Enigma (2003)