Game Downloads
You're located in category:
Heartlight Deluxe
Review 1:

Heartlight Deluxe is one of the better Supaplex clones, although level design leaves much to be desired. Your task is to guide the little elf Percival through 60 levels, each of which is full of various hazards. Not surprisingly, the exit door in each level can only be unlocked when Percival collects all the hearts in that level.

Although most levels in Heartlight are similar to each other, much of the fun lies in figuring out how the different hazards behave and react. Not unlike Epyx' classic Chip's Challenge, experimentation is key to winning in this game, and you will need reflexes as well as wits to survive. Many later levels can only be solved by precise timing and careful planning. Overall, Heartlight is a fun Supaplex variant that will keep puzzle fans entertained. Puzzle veterans may frown at the game's repetitive levels, but beginners will welcome the gradual increase of difficulty. Not a must-play by any means, but a good, clean fun. Worth a look if you like Supaplex or an older classic Boulderdash.

Review 2:

Legendary Boulder Dash was a revolutionary game with a concept followed by many. Most were just plain copies but some did well and become legends themselves (Supaplex for example). Another good Boulder Dash clone is Heartlight and now you have a chance to play it.

You control a little elf called Percival. His goal is simple - collect all hearts on a level and exit through a door. There are total of 60 levels, each requiring you to use your brain, even the first one! The game will also ask you to use your reflexes often as some levels can only be completed by fast and precise movement.

Heartlight Deluxe is a great game for bot the beginners and the experts alike. You will enjoy it!
Download full game now: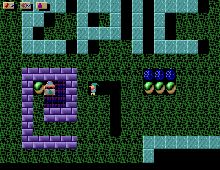 Heartlight Deluxe screenshot
People who downloaded this game have also downloaded:
Lemmings 2: The Tribes, Fool's Errand, The, Chagunitzu, Lode Runner: The Legend Returns, Chip's Challenge