Game Downloads
You're located in category:
Bust-A-Move 2: Arcade Edition
Bust-A-Move 2: Arcade Edition is a great sequel to Taito's classic puzzle game that was extremely popular on the Neo-Geo system and in the arcades. The first official Bust-A-Move game, this excellent PC conversion adds plenty of options and make the game even more addictive.

Like the original, Bust-A-Move 2 is a puzzle game where you have to bust all the colored balls before they squish you. You do this by aiming and shooting a color ball to line up three or more balls of the same color. The ones you pop will fall, along with any others that were using them for support. As time goes by, the ceiling begins to drop. The game stars Bub and Bob, two cute dragons from Taito's Bubble Bobble series. If you despise cute or anime-style games in general, stay far from this game: Bub and Bob has plenty of cuddly antics, from twirls in the air when you win, from bawling if you lose. Controls have been much improved over the original game: you can aim the catapult much more precisely this time, and there is even a hotkey that returns it to the middle (pointing straight up) immediately. Also, you can now play against a computer opponent, or a human one in hot-seat mode. You can even design your own levels in this game after you finish all the hard and secret levels.

In a strange but not altogether unwelcome decision, Taito added a plot to this puzzle game. In a series of animations before each computer opponent, you see Bub/Bob interact with opponents. These interactions don't always make sense - they seem more of an excuse for Taito to give cameo roles to characters from their other games (for example, at one point you get the final boss message from Darius Gaiden). Still, these animations are fun to watch, and give you something to look forward to after beating each level. Addictive, fun, and near-flawlessly executed, Bust-A-Move 2: Arcade Edition is a worthy addition to a great franchise, and a must-have addition to every puzzle gamer's library.
Download full game now: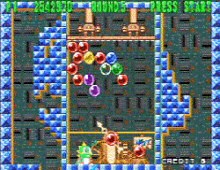 Bust-A-Move 2: Arcade Edition screenshot
People who downloaded this game have also downloaded:
Bust-A-Move 4, Lemmings, Bust a Move, Lemmings 2: The Tribes, Lemmings Chronicles, The (a.k.a. All New World of Lemmings)