Game Downloads
You're located in category:
Space Adventure
Space Adventure is a fun multimedia edutainment title from Knowledge Adventure about astronomy. Driven by the same engine as the company's first product, Knowledge Adventure, Space Adventure is subdivided into 4 sections: a view of Earth seen from space, a tool bar and time scale, a picture screen, and text box. Similar to previous KA products, Space Adventure is essentially a concise encyclopedia of astronomy and space travel, using clever picture and text hyperlinks that lead you to discover new topics. You could also view each topic individually by using the Earth window and timeline, but it is much more fun to click on text balloons on the picture to discover a new, related, topic. Another similarity with other KA titles is good use of multimedia elements. For example, when picture of a new event is shown, a sound bite from actual conversations recorded dutring the event plays.

The timeline allows you to pick any time between 10 billion B.C. and 2010 A.D. and see a display of what happened or was planned during the chosen year. All the windows are interconnected to display material that is relevant for that time. For example, if you move the cursor on the time line to April 12, 1981, the picture shows the lift-off of space shuttle Columbia; the map centers on Cape Canaveral, Florida; and the next describes major features of the flight. At the same time, you can hear a sound bite that reproduces Mission Control?s countdown to lift-off. Thus, for each event, the program gives you the geographic location, a picture, the data, a description of the event, and an aural memory of the occasion.

Despite Space Adventure being more of an introductory/exploratory title than an in-depth database, the range of subjects covered is extensive and the description concise and informative - thanks to the involvement of sci-fi legend Isaac Asimov. Kids can learn about different types of stars, history of space exploration, and even the search for extraterrestrial life and some intriguing ideas from science fiction. If you or your kids enjoy astronomy or are fascinated by space voyages, Space Adventure is a fun introduction to the subject.
Download full game now: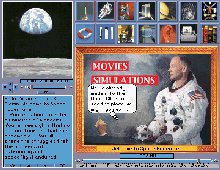 Space Adventure screenshot
People who downloaded this game have also downloaded:
Where in Space is Carmen Sandiego?, Where in The World is Carmen Sandiego? Deluxe Edition, Where in The USA is Carmen Sandiego? Deluxe Edition, Where in Europe is Carmen Sandiego?, Oregon Trail Deluxe