Game Downloads
You're located in category:
Gravitation Ltd.
Gravitation Ltd. is a great edutainment software for the Macintosh, released as shareware in 1997. Billed as "solar system simulation," it can probably be more accurately described as a 2D gravity/orbital simulation. The program lets you build solar systems, gravity slingshots, or create your own asteroid belt. You can simulate the many sample solar systems included with the program, or create your own with a very intuitive point-and-click editor that takes full advantage of the Mac's mouse-based functions and help balloons. The physics is realistic, and it is a lot of fun to watch the tracer lines as they track the movements of planets and other astronomical objects around the sun in your very own solar system. If you are one of the (few) people (including yours truly) who enjoy watching computer-generated fractals based on the Chaos Theory, or if you are interested in astronomy in general, Gravitation Ltd. is a must-have in your collection. Highly recommended!

Note: this download is the latest version, 5.0, which includes cool color graphics, an improved editor, 25-planet capacity (up from 10), the ability to simulate tiny moons and asteroids, help balloons, and many more features. Although released as a shareware product for which you are encouraged to pay to register, the program is identical to the full version.
Download full game now: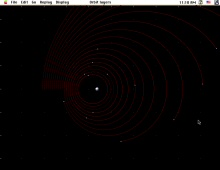 Gravitation Ltd. screenshot
People who downloaded this game have also downloaded:
BlockCAD, C.Y.P.H.E.R. Operation US Presidents, Learn about the Human Body, Museum Madness, Dance of the Planet 2.0