Game Downloads
You're located in category:
Stormlord
Stormlord is an excellent tongue-in-cheek arcade/adventure casting you in the role of Stormlord the hard man, in his quest to rescue fairydom and the rest of the inhabitants of his land from the evil witch. Under this cliche premise, your goal is to locate and rescue a give number of fairies to pass to the next level-- under time limit, of course, as this is a Hewson game.

Despite this cliche premise, Stormlord is not your typical hack-and-slash side scroller. As one can expect from the developer of very original action/puzzle games, Stormlord has some interesting features although it's more action-intensive than previous Hewson releases. For a start, there are many objects you can pick up and use in traditional adventure-game style. Their uses are almost always obvious; for example, you can swap a honey pot with another item near the bees, to attract them to move away from the fairy, leading to an easy rescue.

Another neat feature is the springboard. Like all other objects, the correct use of this is crucial. Acting like a teleporter, the springboard transports you from one location to another when you walk over it, although you might spring a trap at landing. Stormlord can shoot out either bolts of energy or a powerful sword, depending on how quickly you press the keys. Overall, Stormlord is a fun side-scroller that isn't as original as Hewson's most famous classics (e.g. Nebulus), but is still a lot of fun to play. Great for whiling away those few hours in between more intense games. Recommended.

Rob's review: "Nice fantasy jump'n run by Hewson. Pretty hard but addicting in typical Cecco action-puzzle manner. All other versions (Amiga, Atari ST, C64) of Stormlord had one thing in common: Amazing music by Johannes Bjerregaard, Jeroen Tel and Charles Deenen! As expected, the PC version falls short in that department. Requires a slow-down util on modern computers."
Download full game now: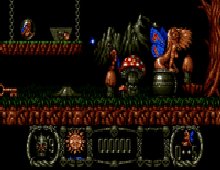 Stormlord screenshot
People who downloaded this game have also downloaded:
Storm Caliber, Space Vegetables Corp, The, Sky Puppy, Super Cauldron, Star Fox 2