Game Downloads
You're located in category:
Paperboy 2
Review 1:

Now this is what Paperboy 1 should have been! Aside from better graphics and sound, the game has much larger play area and now you DO have time to avoid the car when it comes at you.

The goal is the same as before. You have to deliver the newspaper to the subsribers. Now you can even play as papergirl and see the action from a different view (well, not really; it's all the same).

Review 2:

In this superior sequel to arcade classic PaperBoy, you are back to deliver some more papers to a not-so-friendly neighborhood. However, this time, you can also play as PaperGirl (so as not to be appear sexist, naturally). The neighbourhoods this time are a little strange, though - all the streets have castles in them! You will also have to dodge the likes of skateboarders, bouncing balls, ghosts (!), and the obligatory workmen carrying furniture or glass. The game has better graphics and is much faster than its predecessor - in fact, I think it's too fast. It also makes crashing into things a frequent occurrence, and your six lives will quickly run out. At least Mindscape adds sound effects to the game this time around, and the obstacles and levels are definitely more diverse than the original classic. Overall, PaperBoy 2 is an excellent all-around update that doesn't change the tried-and-true concept of the original. The game is as incredibly addictive as ever -- so be warned.
Download full game now: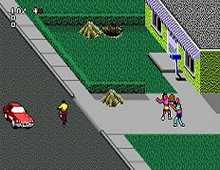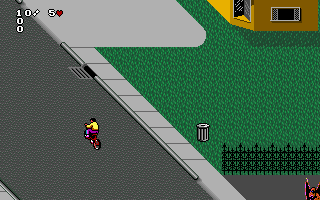 Paperboy 2 screenshots
People who downloaded this game have also downloaded:
Paperboy, Simpsons, The, Bubble Bobble