Game Downloads
You're located in category:
Marble Madness
Review 1:

I spent countless coins on the arcade version of this game, which proves why Atari was a highly successful game company in the 80s: original concept, great graphics, and solid gameplay. Guide a ball as it rolls downhill toward the exit, escaping enemies and obstacles along the way. A truly timeless masterpiece of game design. Colorful isometric graphics and realistic ball physics (complete with inertia and gravity) are the game's hallmarks that set it apart from other arcade games in its time. Highly recommended! Note: the keyboard control is implemented like an afterthought-- make sure you have a joystick hooked up to get the most enjoyment from this game.

Review 2:

Marble Madness is a very old but classic game. It's a basic concept really, you guide the ball as it rolls down the hills until you get to the exit. With any good puzzle game there are obstacles of course, such as bumps and holes to avoid. Sometimes it gets quite hard as the pathways get very narrow and you still have to make sure your marble doesn't fall off the edge. There are dark marbles to avoid hitting, and piles of goo that will eat your marble up. This may seem very straightforward, but this is a VERY addictive game. Definitely not for the impatient, as I found that it took me a long, long time to get used to the controls, and an even longer time to pass up through the levels. Having a time limit to get the marble through each level is quite a challenge.

Lovely CGA graphics magenta and cyan. If you can play Tandy then I really recommend you do, as you'll be able to have 16 colours - it does make a hell of a difference. PC Speaker sounds, which can be irritating, but trust me, I've heard much worse than this game! I would suggest playing this game with a joystick, as the controls are a bit out of whack for a keyboard.
Download full game now: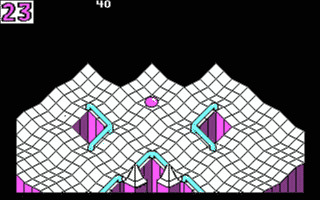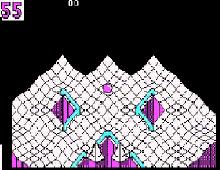 Marble Madness screenshots
People who downloaded this game have also downloaded:
Gauntlet, Paperboy, Gauntlet 2