Game Downloads
You're located in category:
Fast Food
Fans of Spectrum computers would recall that Codemasters' Dizzy series were some of the best games ever made for that computer. Created by a quirky pair of designers who call themselves The Oliver Twins, the series feature Dizzy, prince of the egg-shaped people (okay, they're actually eggs) who are, quite ingeniously, called yolkfolk. The games are either arcade adventure, or arcade-style puzzlers. The series is memorable for eccentric level design, great music, and wonderful cartoon-style sense of humor. There were 15 Dizzy games made for the Spectrum, only 7 of which were ported to the PC.

Fast Food breaks the tradition of previous Dizzy games: it's a straightforward Pac-Man clone instead of arcade adventure that earlier Dizzy games were famous for. In Fast Food, Dizzy must eat all the items of food in each maze whilst avoiding the ghosts - Bonzo, Wiza, Pipa and Fido - each of which has their own personality. There is a total of thirty levels to go through. It's a nice game with colourful graphics and some rather neat music, although you get an extra life every three levels, which makes the game a little too easy. Still, the cartoons you get to see every three levels are quite fun to watch. Overall, an above-average Pac-Man clone that may disappoint die-hard Dizzy fans who prefer the Dizzy arcade adventures over this arcade clone. If you like this one, also check out Kwik Snax, a sequel of sorts.
Download full game now: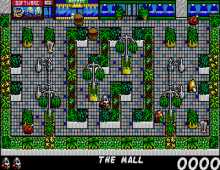 Fast Food screenshot
People who downloaded this game have also downloaded:
Frogger, Frogger II: Three Deep