Game Downloads
You're located in category:
Egaroids
A simple small game of the ...roids-type. The goal is simple - you have to shoot up asteroids and some occasionally appearing UFOs which try to shoot you too. The trick with these games is that you have to control your spaceship by turning it to the left and right and thrusting your ship. Pretty realistic and not easy. You need some skill to get on with the game, but it's not boring as it gets harder all the time. Sure - this isn't one of the most thrilling games, but it's nice for some minutes of playing during lunch-break.

Downside of this game is that it seems to be programmed by a lefthanded person. You have to control the ship with the left hand, while shooting with the right. Can be a bit difficult for the righthanded majoritiy, but on the other hand (he he) - isn't it only fair to face the problems of the minority of lefthanded people at least this one time? Well, it's not THAT a big problem, but you need a bit more training.
Download full game now: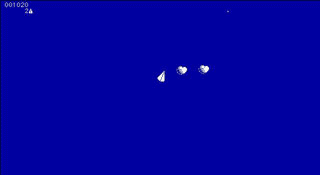 Egaroids screenshot
People who downloaded this game have also downloaded:
Galax, Flying Tigers 2, Marshmallow Duel, Dawn Raiders, Gridrunner++