Game Downloads
You're located in category:
Clyde's Adventure
Clyde's Adventure is a below-average platform game for DOS that starts out promising enough before descending into mediocrity around halfway through. Your goal: make your way through each of the 32 castles, while collecting treasure, all of the gems, and find the exit to the next castle. A novel design choice in Clyde's Adventure is the lack of any enemies - no monsters to kill or avoid. Instead, there are numerous traps, switches, and teleporters you must find and activate.

One of the best things about Clyde's Adventure is the large number of castles: the game contains two chapters, each containing 16 castles. Part one is shareware, part two only available upon registration. Playing through all the castles available will easily take you hours - much longer than an average shareware platformer. The graphics is also decent, and controls are easy to use. Unfortunately, these high points are too few compared to the repetitive level design and uninspired backgrounds. After the first 5 or so castles, you will have seen most of what the game is like - and will have little incentive to continue. Not recommended, except if you like puzzle-oriented platformers in general and are tolerant enough of boring levels.
Download full game now: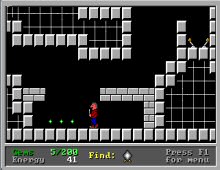 Clyde's Adventure screenshot
People who downloaded this game have also downloaded:
Clyde's Revenge, Chex Quest 2, Indiana Jones and The Last Crusade - The Action Game, Chex Quest 3, Chickie Egg