Game Downloads
You're located in category:
Acter World
Acter World is a fun freeware clone of Taito's classic Bubble Bobble. You control Princess Lina, who must kill all the enemies who have invaded the royal palace. You are equipped with a magical ring that can "seal" the enemy in a bubble at a single touch. Then you must quickly "pop" the bubble before it disappears and frees the enemy. There are 32 levels in the game, more than a few types of enemies, and a number of bonus items that appear randomly to help you out.

Like the original, Acter World is a lot of fun, even though there is no 2-player mode. The anime-style graphics are very nice, the level designs challenging but not frustrating, and the action nonstop. If you enjoyed Bubble Bobble, you will find this fanmade clone to be a worthy tribute - even if it is a bit too short compared to 100 levels in Taito's original release.
Download full game now: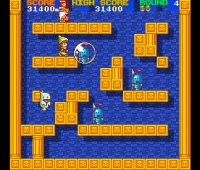 Acter World screenshot
People who downloaded this game have also downloaded:
Adventures of Lomax, Absolute Pinball, Abuse, Abu Simbel Profanation Deluxe, Actraiser