Game Downloads
You're located in category:
Rode Quest 2
Rode Quest 2 is a fun "bite-size" freeware adventure game from Shawn Guzzo, designer of Rode Kill a top game on this site. As Rode, the amicable hapless hero from Rode Kill, your goal this time is to find a way to stop corrosive material from dissolving the hull of your ship. The game is coded with Adventure Game Studio (AGS), a powerful and free adventure game development engine.

Aside from offering fun and not-too-easy puzzles to stump adventure gamers for an hour or so, Rode Quest 2 is also notable for a very polished look and high production value. The game interface, for example, is intuitive, unobtrusive, and very cool-looking (as a side note, designer Shawn Guzzo has generously made the interface a separate download for fellow AGS designers, so here is hoping that we will see future AGS games with this interface). The graphics is excellent, the dialogue humorous, and the puzzles are fun. There are several math puzzles, as well as a funny parody of copy protection that should bring a smile to anyone old enough to remember the (good?) old days of copy-protected 5.25" disks. All in all, if you are in the mood for a short but entertaining adventure games, Rode Quest 2 is definitely well worth your time.
Download full game now: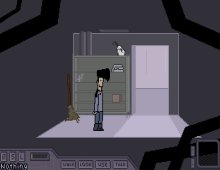 Rode Quest 2 screenshot
People who downloaded this game have also downloaded:
Rode Kill: A Day in The Life, Lost Files of Sherlock Holmes 1 (a.k.a. Case of the Serrated, RON7: Dee Vee Ess, Rome: Pathway to Power (a.k.a. Rome: A.D. 92), Realms of The Haunting