Game Downloads
You're located in category:
Quest for The Timebird
One of the rarest Infogrames games ever made, Quest for The Timebird is an excellent adventure game based on a famous French graphic novel of the same name. In an unknown world, at a time when wizards and witches cast their magic spells, your task is to undertake the quest for the legendary timebird. In the game, you control the actions of Roxanna, the daughter of Mara the Witch, and Bragon the famous knight who became interested in the quest only after Roxanna convinced him to return to a life of danger and mortal combat. With him goes his trusty war-axe, the Reaper. Along the way, Roxanna and Bragon will become acquainted with Bulrog and the Unknown knight, both of whom may accompany you if you wish it.

You have nine days to complete the quest, but the task is not as difficult as it first appears. Although it was marketed as an "adventure game," QFTB plays more like an interactive storybook: you advance the plot merely by exploring the lands, charming anyone you can, and attacking others. The game also includes an annoying maze, although it is thankfully short enough that you can solve it by trial and error. Similar to Infocom's Journey, you must select what to do from multiple choices, although the game is far easier and much more linear. The game uses a simple mouse-driven interface where clicking the left mouse button does everything that needs to be done in the game. Overall, if you enjoy the graphic novel, you will likely find QFTB a pleasant way to refresh your memory about the story. If you have never read it, you will find the game an interesting storybook whose decent writing and a somewhat unique fantasy plot are interesting enough to compensate for minimal "gaming" elements. Recommended, although not a Top Dog.
Download full game now: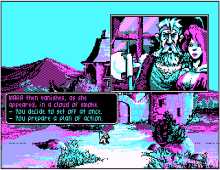 Quest for The Timebird screenshot
People who downloaded this game have also downloaded:
Peasant's Quest, Scapeghost, Permanent Daylight, Scoop, The, Realms of The Haunting