Game Downloads
You're located in category:
Prince of The Yolkfolk
Fans of Spectrum computers would recall that Codemasters' Dizzy series were some of the best games ever made for that computer. Created by a quirky pair of designers who call themselves The Oliver Twins, the series feature Dizzy, prince of the egg-shaped people (okay, they're actually eggs) who are, quite ingeniously, called yolkfolk. The games are either arcade adventure, or arcade-style puzzlers. The series is memorable for eccentric level design, great music, and wonderful cartoon-style sense of humor. There were 15 Dizzy games made for the Spectrum, only 7 of which were ported to the PC.

Prince of The Yolkfolk is the fifth Dizzy game in the series, and the third to have been ported to the PC (after Fantasy World Dizzy and Magicland Dizzy). This time, the troll has taken over the king's castle and the princess has been captured. Only Dizzy can save the day, as usual. You also have to collect cherries, which replenish your energy.

This is undeniably the easiest and shortest of all Dizzy games (only 30 rooms), and for a reason: it was meant to appear exclusively in a Dizzy compilation, but ended up being released as a budget game anyway by Codemasters. Despite the small size, Prince of The Yolkfolk is still a challenging arcade adventure that should appeal to Dizzy fans and fans of cartoony games in general. If you've never played a Dizzy game, Prince of Yolkfolk is a good start.
Download full game now: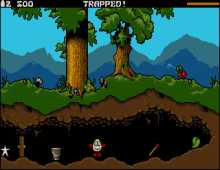 Prince of The Yolkfolk screenshot
People who downloaded this game have also downloaded:
Dizzy: Fantastic Adventure of Dizzy, Dizzy: Fantasy World of Dizzy, Dizzy: Prince of Yolkfolk, Dizzy: Magic Land of Dizzy, Dizzy Remake