Game Downloads
You're located in category:
Murder in Venice
Review 1:

In this little-known murder mystery game, you play a sleuth who must solve a high-profile murder in Venice. While the plot is nothing original, there are many revolutionary elements in gameplay. For instance, you can use your camera to photograph suspicious characters and events so you can show them to other characters to elicit clues. The game is also played in real-time, so timing and patience are key to finishing the game: you must wait for important events or characters to show up, as well as time your approaches. This novel, "realistic" spy technique is later implemented to greater effect in Cryo's KGB. Overall, a fun underrated sleuth game with a lot of innovative features that's well worth a look.

Review 2:

There's quite a number of detective/mystery adventures out there. Most of the good ones were made during the late eighties/early nineties, but what ties them all is a rather small interest in them. It's such a shame since Colonel's Bequest, KGB or Maupiti Island are amazing games, well worth the time you'd spend playing them. And this is another such game: great, yet unknown.

Murders in Venice is viewed from a first person perspective, while all the interaction is done from a menu on the left side of the screen. What makes this game special are some revolutinary elements such as using a camera to photograph interesting people or object for later investigation. Also, since the game is played in real-time, certain characters appear on certain places at specific time so you must be on alert all the time.

Graphics are below average for a VGA game, while music can be quite irritating! Those two things bring down the final score a bit, but the game is still fun to play.
Download full game now: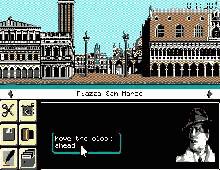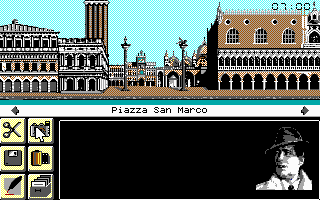 Murder in Venice screenshots
People who downloaded this game have also downloaded:
Murder Cruise, Lost Files of Sherlock Holmes 2 (a.k.a. Case of Rose Tattoo), Lost Files of Sherlock Holmes 1 (a.k.a. Case of the Serrated, Mystery of the Mummy!, Murder in Space