Game Downloads
You're located in category:
Discworld
Review 1:

In 1995, Terry Pratchett made a very wonderful move in his career. He took his renowned Discworld series to the screen-that is, the computer screen. Partnered with Psygnosis Ltd., Pratchett crated a fantastic world of comedy and mischief viewed through the clever gameplay of a point-and-click adventure game. Pratchett's stories were a hit back during the time of the adventure games glory, so you can imagine how incredibly popular the games of the same characters and name were Europe and America.

Atop the flying disk planet known as Discworld, flying along in infinite space, foul things are transpiring in the famous city of Ahnk-Morpork. A dark guild have brought back a great beast, one that no one really believes in. But they will before long. Not standing still, the wizards of Unseen University send their most expendable wizard to destroy the threat. Rincewind, the wizzard, er, I mean wizard, is the worlds most inept wizard. He'd much rather run away from the dragon than confront and destroy it, and it doesn't make things any better that the evil bad guys and even Death him-self are all right on his tail. Can Rincewind keep all of Ahnk-Morpork from becoming nice little fried Morporkians? Play this delightful little adventure and find out for yourself.

It's time to talk about the inner workings of this wonderful game. The graphics are up to par, they are a mix between Monkey Island 3 and Simon the Sorcerer. The music is very whimsical and magical, and adds to the atmosphere of the game very well. The puzzles are difficult enough to keep you guessing for a while, fortunately there are none of those annoying pixel hunts. The humor is where the game is really at. I have probably cracked up about a million times in this game, especially at the scenes with the Librarian. I'll let you see that for yourself. Did I mention the inventory is a walking luggage chest?

So to conclude my review, I must say that Discworld is a masterpiece of the adventure genre. A gem like this doesn't come around very often. Not only will it bring a smile to your heart, but you'll want to come back and play it over and over again. Or maybe I just liked it too much.

Review 2:

Two of the most underrated adventure games ever, both Discworld games are based on Terry Pratchett's pun-filled fantasy Discworld series, in which the whole world is carried through space by a turtle, and idioms and puns do have a life of their own. As bumbling wizard Rincewind, prevent the Dragon from destroying the world in Discworld 1 and find a way to convince the disillusioned Death to resume his day job in the sequel. Both games have great humor (although dialogues drag on at times), and some of the most devious but logical puzzles ever designed.

Famed Monty Python veteran Eric Idle's performance as the voice of Rincewind is flawless, althought some dialogues are very long-winded to the point of frustrating. Clever puzzles and hilarious animations, however, more than make up for it. Highly recommended for Pratchett fans and fans of zany adventure games in general-- just be prepared to sit through very long (and sometimes tedious) dialogues.

Review 3:

Discworld is a point and click puzzle/adventure game based on the fantasy series of Terry Pratchett. You play the part of Rincewind a young wizard who must seek out and defeat a dragon that is plaguing Ankh-Morpork. Your travels will take you to many places and people from the series and if you like the books I'm sure you'll love the game. I first played Discworld shortly after having read the first two books in the series and found it to be incredibly funny and keeping in the same sense of humour as the books. Initially, I found the game rather difficult but having come back to the game when I was a bit older it was much easier and much more logical. For any Discworld fans out there you will love meeting up with the librarian of the Unseen University (who is now an orang-utan) who almost had me in tears.

Game play

Discworld plays like many other games of its genre such as Simon the Sorcerer, the later Kings Quest games and the Monkey Island series. As you move around each screen you can interact with things that you see or people that you meet to accomplish your goals. The beauty of this simple game play formula is that the games are timeless with the focus not being on the graphics but the puzzles and the storyline. There is definitely no multiplayer element to the game and neither are there any alternative solutions, however unlike many games these days it tells a story- a story that you are a part of. Regretfully, there are quite a number of bugs with the Discworld game and they spoil the game somewhat.

Graphics

The graphics are pretty good- 2D figures with detailed animation sequences. If I was to remake the game today I don't think I would change it from that style. Realistically, as I have mentioned, the graphics aren't too important it's the storyline and the humour in the game that are important. The graphics are good enough that they don't diminish those important aspects of the game.

Rating

I'd give this game 8 out of 10. The only thing keeping it from a higher score are the bugs and a few tricky puzzles. If you like puzzle/adventure games you are sure to like Discworld. Discworld as a game is very much like the Simon the Sorcerer and Monkey Island games so you are guaranteed if you liked those you will love Discworld.
Download full game now: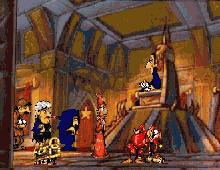 Discworld screenshot
People who downloaded this game have also downloaded:
Discworld 2: Mortality Bytes, Discworld Noir, Alone in the Dark, King's Quest 5: Absence Makes the Heart go Yonder, King's Quest 6: Heir Today, Gone Tomorrow