Game Downloads
You're located in category:
Amazon: Guardians of Eden
An underrated "cinematic adventure" by the company famous for Tex Murphy games, Amazon is a fun romp in the style of B-movies in the 50s. As a hapless scientist who willingly brave the Amazon jungles to find your missing brother, you'll find yourself glued to the screen in this frustrating game that manages to be funny despite the intentional campiness. Many pixel-hunting and real-time puzzles sometimes spoil the fun, but the cool Indiana Jones style plot and characters help make up for it somewhat. Overall, an okay adventure marred by illogical pixel-hunting puzzles and cliche writing. If you like B-movies, give this one a try. If you're looking for a thoughtful, serious adventure, look elsewhere.
Download full game now: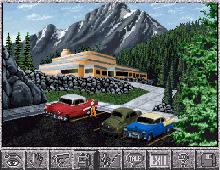 Amazon: Guardians of Eden screenshot
People who downloaded this game have also downloaded:
Alien Incident, Adventures of Willy Beamish, Gobliiins, Azrael's Tear, Adventures of Fatman: Toxic Revenge, The