Game Downloads
You're located in category:
Shadow of the Beast 1
Review 1:

This is an ancient platform/beat 'em up/ what ever else, with slight adventure game elements thrown in with the use of items on other itmes (mainly keys). This set a trade mark in graphics and was a legend on the Amiga at the time of its release. This game is just one big long game, in which there are no seperate levels, but just one long screen that you run across doing things and killing things. The game has a slightly dark and mistifying feel to it, with the running landscape in the background portraying the feelings of evil and darkness. Added to that is the music, which is equally gloomy and helps to make that spooky atmosphere ever more realistic. The monsters and ghouls and stuff are sub-standard in comparison to the graphics in the game, without any real depth to them and the same sprites being used constantly with no variation... Still a cult game, which is remembered by very many Amiga gamers! A very good and long lasting game!

Must be run using Kickstart 1.3 (I also used minimum RAM settings) The game doesn't seem to work very well in WinUAE though, so I suggest using Fellow.

Review 2:

This is a sideways scrolling beat-em-up game, where you have to move your hero through the beautiful levels and slay all the monsters. An extra feature that you can enter the backgounds and explore many areas. Very nice.
Download full game now: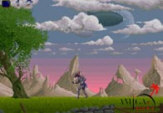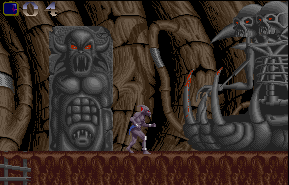 Shadow of the Beast 1 screenshots
People who downloaded this game have also downloaded:
Shadow of the Beast 2, Shadow of the Beast 3, Speedball 2: Brutal Deluxe, Lemmings, Secret of Monkey Island, The