Game Downloads
You're located in category:
Lemmings 3: All New World of Lemmings
Review 1:

Well, here it is. The final attempt at Lemmings as we know it. This game is EXTREMELY poor in comparision to the original, and even Lemmings 2. Compared to Lemmings 1 or 2, this game is far too complex to be fun. You have to do aload of stuff to get your lemmings to actually do what you want them to do, and fundamental elements of Lemmings have been sorely ignored. Such as the diagonal bridge building - The lemmings can't even walk past them!

The ideas from Lemmings 2 have been used here, with the various tribes, etc. But this time we only get to play as either the classical lemmings (we all know and love), the egyptian lemmings (which were first seen in Lemmings 2) or Shadow Lemmings (which were my favourite tribe from Lemmings 2).

The game starts with the 3 tribes in the hot air ballon flying up high in the sky. These must have been the survivors from the apocalypse in the first game (I can't remember who escaped in the end of Lemmings 2).

I suppose this is an enjoyable game for die hard lemmings fans, but die hard lemmings fans will also be disapointed by this rip off game. So, unless you want to get all of the Lemmings games, I don't suggest getting this game.

Must be run using Workbench 3.1 or higher and at least 2MB chip RAM.

Review 2:

The 3rd episode of the classical Lemmings game, with some new worlds. Many levels, at many exotic places, like Egypt. Good graphics, using AGA chipset, and interesting gameplay.
Download full game now: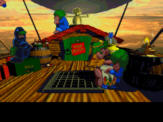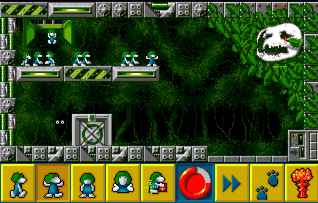 Lemmings 3: All New World of Lemmings screenshots
People who downloaded this game have also downloaded:
Lemmings, Lemmings: Oh No! More Lemmings, Lemmings 2: The Tribes, Lemmings 2: The Tribes, Secret of Monkey Island, The