Game Downloads
You're located in category:
Laser Squad
Review 1:

Turn based strategy game

Long before any of the X-Com games was made, Krisalis created Laser squad - turn based, squad strategy game (it was made for C-64 and Spectrum computers, and later for Amiga). Equip Your soldiers with guns, ammo, explosives, medical kits... and complete the mission. There are many things You can do with Your soldiers such as ducking, aim shots, auto shots, planting explosives and many, many other things. What I really like is that once You kill an enemy You can search the body and get his equipment, but if You kill him with explosives or rocket launcher it's impossible to search him. These little things make the game more realistic and fun to play.

Review 2:

This was one of the first turn-based strategy games I ever played and it hooked me totally. Normally you are controlling a Squad of Soldiers and have to solve a mission, but you have the option to play the other side which may include playing robots and aliens. There are only 5 missions to play but these differ tremendously in size, mission objective and general settings. Granted that you can play both sides you have actually 10 different missions to play.

Everything you want from a game like this is there: Equipping your squad with weapons and armour (even Light Sabres are choose able!), use of line-of-sight, opportunity fire, throwing and timing of grenades, psychological effects like soldiers getting panicked, cover and strategical deployment of your forces during setup. But the best feature is the ability to play this game against a friend in a hot-seat game!

The KI is okay, the mission and side you are playing is much more important. For example you will have a hard time when the computer defends the moon base (defence is much easier), on the other hand the computer will get extra big robots while playing the offensive side in the "attack of the machines" mission which are very tough to kill. A human player gets only one of these monsters, the KI fields 2-3. That means winning all missions with both sides is quite challenging.

This all is quite impressive if you consider how old the game actually is. Graphics are okay, especially for a strategy game. But the intro song deserves a special mention, you would have to search for a long time if you were to find something comparable.

Tips on gaming: Everything revolves around opportunity fire and who has to run into it. That means be patient if you are the defending player and plan ahead if you are the attacking player, creative use of grenades is key here.
Download full game now: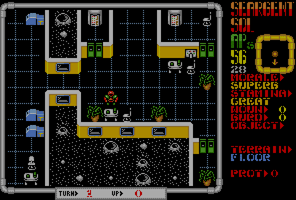 Laser Squad screenshot
People who downloaded this game have also downloaded:
Pirates! Gold AGA, North & South, Populous 2, Project X, Lure of the Temptress