Game Downloads
You're located in category:
Katakis
Review 1:

What a bastard! This game is hard, very much harder than I remember. But on the other hand I mostly played the C64-Version of this game years ago. This version looks much better and it is still a good game. Be prepared to die often. It's still pretty addictive - at least I tried again and again. Finally you know when to avoid and when to shoot as fast as your fingers allow you to. The game gets managable once you get some nice extras that protect you. This one can really keep you at the computer for a while. It did last night - yes, it was a good feeling to play Katakis again!

Review 2:

This is a legendary C64 shoot 'em up game, with amazing smooth scroll and very hard and exciting gameplay. This is the Amiga version, which was enhanched only in it's graphics, but still reminds the old ages. Very nice, worth to try, but the C64 version still rules the world.
Download full game now: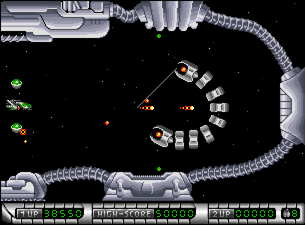 Katakis screenshot
People who downloaded this game have also downloaded:
Chaos Engine, IK+, Xenon 2: Megablast, Prince of Persia, Ghosts 'n Goblins