Game Downloads
You're located in category:
It Came from the Desert
Review 1:

A very good adventure strategy game. A little town out in the desert is about to get it's biggest surprise ever as it's about to be overrun by giant ants. And of course you are the only one that can stop them.

It Came from the Desert offers several different game modes like fighting, shooting at the giant ants, arcade flight style, realtime battles in a tank, escape from hospitals chased by the personal and a few more things. The game will end either when you have killed all the ants or when the time is up.

Review 2:

It's a fun action/adventure game that gets all its inspiration from the many cult horror movies of the 50's and 60's. You are a geologist and have to examine the crash-site of a mysterious meteor, but what you find is not what you were looking for...
Download full game now: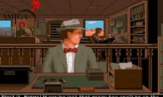 It Came from the Desert screenshot
People who downloaded this game have also downloaded:
It Came from the Desert 2, North & South, Speedball 2: Brutal Deluxe, Flashback, Secret of Monkey Island 2: LeChuck's Revenge AGA