Game Downloads
You're located in category:
Giana Sisters
Review 1:

One of the first games I've been addicted to - Giana Sisters. A great Jump 'n Run - nothing special compared to all the stuff of today, but a real classic. Find your way through many levels with some strange and cute monsters which you can defeat by jumping on them, well... some of them at least - some others are only defeatable with extra-weapons you find. Collect diamonds to increase your bonus and get an extra-life (though this version includes a cheat that lets you select unlimited lifes, time and weapons). Nostalgic feelings are overwhelming me when I play this one, but it's not only the fact that I played it 10 years ago on my C64, but also that they've just created a game that lives for years and stays enjoyable.

Review 2:

Mario clone, converted from Commodore 64. Maybe the C64 version is better, the capabilities of Amiga are not really used. It's a simple clone. But the music was resampled and sounds quite well. If you haven't seen the C64 version, try this!
Download full game now: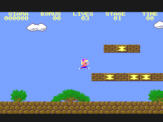 Giana Sisters screenshot
People who downloaded this game have also downloaded:
Ghosts 'n Goblins, Rick Dangerous 2, Secret of Monkey Island, The, Defender of the Crown, Rick Dangerous