Game Downloads
You're located in category:
Battle Squadron
Review 1:

This is a really good shoot 'em up, especially when played 2 player. You control a spaceship, which is flying across a planet and has to destroy everything in its path. There is even a slight storyline behind why you are actually doing it, and to do it is a very hard task indeed! You have to fly around shooting EVERYTHING that is shootable, and collect bonuses and powerups along the way. You can get various bullet types as well as various other things. The level structure for each game is also enjoyable. As far as I can remember, you have the main world which you travel around on the surface blowing the bajeepas out of everything, and then you have to go down these dark pits with big neon signs telling you what to do to go down them. The trouble is, when you are going down you have no defense for a short time so you have to time it right. When you descend into the underworld, you get to fly through the various scenes. There are some really nasty guys down there, so you best be good at the game! Each one of these underground levels has got a big bad boss guy to defeat, and after defeating all of these, you get to attack a final boss. That is the end of the game. It is quite short, but very hard to complete!

I remember I loved this game with its great intro music when it was loading and it was just really great... I look back on it now, and don't find it quite the game I once thought it was, but it is still extremely enjoyable! BLAST THEM ALL!!!

Review 2:

Battle Squadron. An arcade style game for one or two players. You fly your battleship through a high tec surface and your mission is to blast everybody. You can collect powerups to modify your weapons.
Download full game now: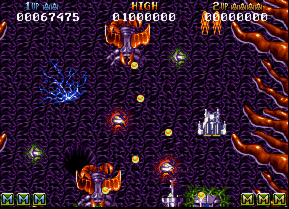 Battle Squadron screenshot
People who downloaded this game have also downloaded:
Arkanoid, Arkanoid 2, Barbarian, Another World, Battle Chess