Game Downloads
You're located in category:
Lotus Agenda 2.0
Lotus Agenda is arguably not only the best "personal information manager" (PIM) software ever made, but also one of the best applications ever seen on a PC. A DOS program originally marketed by Lotus during the late 1980's and early 1990's, Lotus Agenda is in fact the program for which the term PIM was coined. Even to this day, it has PIM capabilities and features that are unmatched by any other software available.

Until recently Agenda was the only PIM in the market that allows the keying of data to precede the creation of database tables. It is an immensely useful tool for sorting piles of information into meaningful categories. With this program, users can keep track of their activities, writings, research, notes, expenses and even other programs in the most user-friendly way ever imagined. Agenda helps you weed through a mountain of information and arrange it into categories. Suppose you keep track of phone calls, are writing a proposal, and need to maintain a daily calendar. If you type "Call Bob and tell him to send the proposal notes by Friday," the program is clever enough to read this sentence and assign this item to the categories: phone calls, proposal, even Friday. When you ask the computer what you have to do Friday, it will remind you to call Bob and insist that you ask him about the proposal.

Agenda can accurately read dates in practically any wording, from 'next week from Friday' to '6/30/93,' and can create a separate category for items that have not been classified under any particular category. Agenda can point out items that are not assigned to any particular category. For example, you might have tasks that must be assigned to people. You can create a new category called unassigned tasks and tell the computer to put here any tasks that do not belong to the category "people." The list of innovations and features goes on and on.

After creator Mitch Kapor left the company, Lotus has since stopped marketing the program. To cheers of fans worldwide, the company decided to release the latest version, Agenda 2.0, into the public domain. Follow the install instructions to see for yourself why thousands of people say this is one of the most useful applications they ever own. Highly recommended.
Download full game now: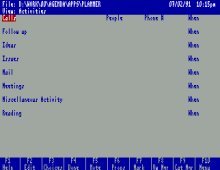 Lotus Agenda 2.0 screenshot
People who downloaded this game have also downloaded:
ThinkTank, Virtual Sound Blaster, Hacker (Wadesoft), Lap Link 3 for DOS, Stereolusions