Game Downloads
You're located in category:
Dungeon Master's Assistant Volume II
Dungeon Master's Assistant Volume I and Volume II are not games but a pair of useful utility programs that prospective AD&D dungeon masters can use to help generate and organize their pencil-and-paper games. Although all text-based, the interface is intuitive and the programs are packed with a wide range of options. You can generate random encounters with monsters, random amounts and types of treasure, and random player and NPCs for use in your campaigns. Volume II allows access to Unearthed Arcana (the last of the first edition AD&D rulebooks), which contains a lot of interesting and exotic items, spells, and characters not found in the standard set. Overall, good utilities that AD&D players will find very useful, although they are of little use to anyone else.
Download full game now: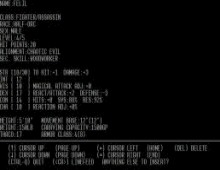 Dungeon Master's Assistant Volume II screenshot
People who downloaded this game have also downloaded:
Dungeon Master's Assistant Volume I, Ultima Underworld: The Stygian Abyss, Pools of Darkness, Dungeon Master, Curse of the Azure Bonds